NHI
Massage Therapy Ambassador
We at NHI are proud of our Massage Therapy Ambassadors (MTA's), an elite group of NHI alumni volunteers. MTA's are committed to the integrity and positive growth of the Massage Therapy profession and to fulfilling their potential as the next generation of industry leaders.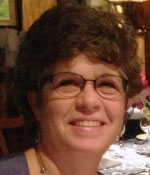 My NHI Story
In meeting many therapists from other programs it has confirmed that I made the right choice in choosing NHI. The instructors know their stuff and you are exposed to the many aspects of the massage field. What really spoke to me was the in-depth instruction of both eastern and western modalities, with a strong emphasis in the science aspects of the field. You know your stuff when you graduate! With all the ongoing support while in the program and after you graduate they are there behind you every step of the way.
After 30+ years in the retail industry I was laid off in the tough economic climate of 2009. Having been certified in Equine (horse) massage in 2004 at Equissage in Virginia, I knew I loved the massage field. After many months of trying to make a go of my equine massage full time in a tough economy with meager results. Several of my clients asked if I did human massage??? That's when the lightbulb lit up!!! Hmm, maybe I should look into this…With massage being a faster than average growing field (20% growth by 2020 according to the Bureau of Labor Statistics) I started researching schools. I contacted the San Jose campus and set up a campus tour and attended an open house with my husband in tow. We were both wowed by the enthusiasm of the instructors and graduates that presented that evening. During my tour I observed one of the shiatsu classes and was hooked.
Getting back into school after so many years was a bit daunting, but the staff and my fellow students supported me every step of the way. My first externship was at Corde Valle my local resort and spa, I got my first taste of life as a massage therapist and I loved it! I guess they liked me, they offered to let me do my second externship as well and was hired as soon as I had my Certification documents. This is not a common offering at a top notch spa, but the training I got from NHI gave me the skills, and experience to excel. A few months later I started working for Noel Chiropractic in Campbell, enabling me to have more therapeutic work my true passion. I love the diversity I have with both Spa and Chiropractic practices.
Last year I went back to NHI to complete the advanced program and enhance my therapeutic Massage skills. Working 2 days a week for a chiropractor I wanted to learn more, to better help our clients. Through the advanced program I discovered the wonders of Neuromuscular Therapy, in depth anatomy, injuries, common pathologies and their causes. Best of all, how I can help my clients feel better and achieve better quality of life! Massage is a field that the more you learn the more you want to learn, the possibilities are endless. I really do have "Work I Love"
We would love to continue the conversation
you started with Bonni Kelley
Call 800.315.3552
to speak with an admissions representative
Special Offer coupon $50off for your books & supplies fee
Download