NHI EVENT
Intro to Shiatsu Massage One Week Trial | 11/22 – 11/27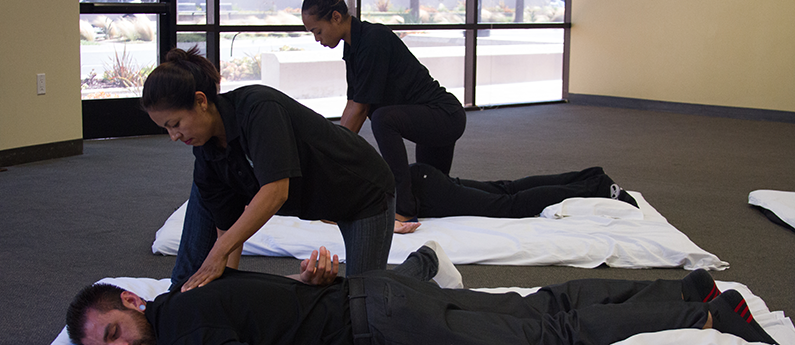 *Due to the current state of our community, NHI has chosen to reschedule the original date of this event.
See below for the schedule change.*
Enjoy a complimentary 4-day massage class trial and learn the fundamentals of Shiatsu Massage! Shiatsu is a form of acupressure done on a mat that focuses on muscle compression and softening, joint mobilization, and stretching, leaving the client relaxed and energized. You can attend one class or all five!
This is a great opportunity to speak with instructors and current students to see if a career in massage therapy is right for you! If you decide that you want to get started right away, our Admissions Staff will be available to discuss the enrollment process with you.
Classes will be held:
Friday, November 22nd, 8:45am-12:45pm
Monday, November 25th, 8:45am-12:45pm
Tuesday, November 26th, 8:45am-12:45pm
Wednesday November 27th, 8:45am-12:45pm
This event will be held at our Santa Rosa Campus: 1221 Farmers Ln, Suite 100, Santa Rosa, CA. 95405.
***Enroll in November and receive $500.00 off tuition!
Attend this class, and receive an additional $500.00 off tuition!***
There's no cost to attend this event, but space is limited. To RSVP, text "Shiatsu" to (707) 205-3144 or call Kelsie at (707) 639-4066 Ext.152. Feel free to bring a friend!
We look forward to assisting you with your goal of being a massage therapist in the near future!
Wishing you safety and peace in these trying times.
Event:

Intro to Shiatsu Massage One Week Trial | 11/22 – 11/27

Date:

Nov 27, 2019 | 8:45am - 12:45pm

Location:

Santa Rosa Campus
1221 Farmers Lane, Suite 100
Santa Rosa, CA 95405