NHI EVENT
IN-PERSON | Massage Therapy School Orientation & Shiatsu Massage Class Trial | 10/08, 10/11, 10/12, 10/13, 10/14 & 10/15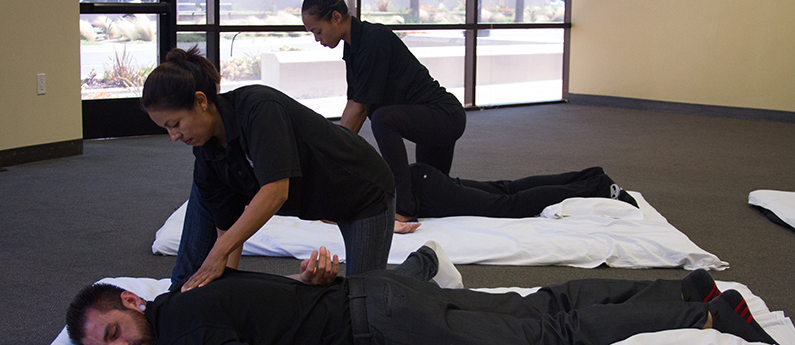 Curious about being a student? Join our new students for their orientation and an Intro to Shiatsu Massage!
Experience what it's like to be a student before you enroll! Join our newest group of students for their orientation and the introduction to their Eastern segment starting Friday, October 8th, at 8:45 am- 12:45 pm. You will have the opportunity to join our newest morning class of students as they review the program format, digital resources, and prepare for their introduction to the Eastern Massage Segment. Meet our amazing teachers and get to know potential classmates on campus!
Attend one or all of the following class days:
Friday, October 8th 8:45 am – 12:45 pm
Monday, October 11th 8:45 am- 12:45 pm
Tuesday, October 12th 8:45 am- 12:45 pm
Wednesday, October 13th 8:45 am – 12:45 pm
Thursday, October 14th 8:45 am – 12:45 pm
Friday, October 15th 8:45 am – 12:45 pm
***If you enroll and start in one of our October classes, you'll receive $600 off tuition OR a complimentary Surface Go & Keyboard!***
CAMTC Approved | SCH0169
RSVP is required as space is limited. To RSVP, complete the form below, call Julisa at (209) 260-1900 ext 3911 or text "Orientation 10/8" to (844) 303-0749. We'll reply with details on how to join!
Event:

IN-PERSON | Massage Therapy School Orientation & Shiatsu Massage Class Trial | 10/08, 10/11, 10/12, 10/13, 10/14 & 10/15

Date:

Oct 8, 2021 | 8:45am - 12:45pm

Location:

Modesto Campus
5601 Stoddard Road
Modesto, CA 95356