NHI EVENT
Studio City Campus | Community Art Fair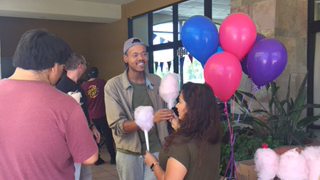 NHI Studio City will be hosting the first Community Art Fair! We will have a variety booths focusing on holistic living and arts and crafts. Come and experience different modalities of massage! Admissions Representatives will be available to answer any questions about our program.There will also be COTTON CANDY!!!!
You are welcome to attend any or all of the presentations to learn about different holistic remedies. Details are below.
Feel free to bring your friends and family. See you there!
Dr. Teresa Rispoli | 2pm
Dr. Teresa Rispoli received her Doctorate in Nutrition from The Holistic College of Nutrition and her Doctorate in Oriental Medicine and Acupuncture from Emperors College in Santa Monica CA. She has been instrumental in building and directing health programs for her clients at Complete Health Institute in Agoura for 27 years, where she offers acupuncture, chakra balancing, hydro colonic therapy, infrared therapy, endermology, radio frequency services, lipomelt, whole body scan technology, ultrasonic technology, as well as nutritional counseling, supplements and many other services. Dr. Rispoli has recently crystalized her life's work as the founder of Functional Nutritionist Academy, an online fully accredited program whose mission is to expand access to holistic health and wellness to practitioners and the public alike. Dr. Rispoli will be speaking on a variety of topics including the technologies and interventions available with regard to gut health, thyroid issues, mental acuity, beauty, and wellness. Additionally, Teresa will share marketing and business tips and share how she has successfully maintained healthy and happy clients for almost three decades in the same space!
Selene Kepila | 3pm
Selene Kepila of Ensele in Calabasas CA is a Brain Optimization health provider and coach. Utilizing advanced technology that is in use by the U.S. Army and Mayo Clinic, Selene has been traveling the country for a decade providing an acoustic mirroring of brain activity in real time, unlike biofeedback and neurofeedback. Utilizing this technology, the brain has an opportunity to hear its reactions and is prompted to adjust its activity to a more balanced state, resulting in healing on its own terms. Regardless of the health issue, this technology has been proven effective in helping the brain create an environment of healing. Selene will discuss this technology as well as light therapy, FDA approved and covered by most insurance, which fosters natural healing without medications and helps clients heal from the fight/flight/freeze patterns that result from stress and trauma. Selene will be speaking on utilizing Brain Wave Optimization and light therapy to increase cognitive and physiological function and the ways that practitioners can utilize these technologies to affect greater results for their clients, thereby increasing customer base and return ratios.
Sherri Fogelman | 4pm
Sherri Fogelman is an L.A. native. She holds a B.A. in Art History as well as a Masters Degree in Education from UCLA. A lifelong student of healthy relationships and lifestyle, Sherri did everything "right" reading labels and eating organic. Still, 15 years ago she was diagnosed with an autoimmune disease. In response, Sherri became vegan and ate a "clean diet," yet recently Sherri was told that she would have to increase her medications, and add a steroid! She decided to try an anti-inflammatory program eliminating common addictive, allergenic and acidic foods to decrease her toxic overload. After a few weeks on the program, she had more energy, better sleep, and her joint pain was significantly reduced. She will be speaking on the benefits of a nutritional reboot as she has experienced the positive results a change in diet can have on a disease.
For questions about this event or to RSVP, please contact Su Wai at 818-540-6014 ext 291 or wais@nhi.edu
Event:

Studio City Campus | Community Art Fair

Date:

Jul 27, 2018 | 2:00pm - 5:00pm

Location:

Los Angeles Campus
10969 Ventura Blvd
Studio City, CA 91604