Campuses
San Francisco Massage Therapy School
Effective October 1, 2018, NHI's San Francisco Campus will be merging with our Emeryville Campus, located just 10 miles away across the San Francisco Bay. While the San Francisco Campus will be closing, our 10 remaining California locations are ready to accept all future enrollments and eager to support you on your journey to having work you love as a professional massage therapist!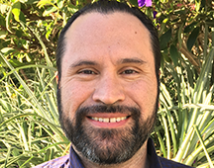 Welcome to the NHI San Francisco campus page! We offer a supportive educational environment in the heart of San Francisco, staffed with dedicated massage therapy professionals. Please visit our campus soon so that you may see first-hand how our massage training program can help you in realizing your massage therapy dream or vision. We look forward to meeting you!
Gonzalo Figueroa Landeros — Sr. Campus Manager, NHI San Francisco
Student and Campus Life
National Holistic Institute's massage therapy school in San Francisco, California is centrally located on famous Market Street at Gough nestled among countless restaurants, cafes, museums, theatres and shopping delights for every taste. The streetcars pass right by our door along with a multitude of other public transportation stops nearby. Our surrounding neighborhoods include Hayes Valley, the Castro, SoMa, and Civic Center. And provide locals and visitors with a myriad of dining and entertainment options, each infused with the unique, rich culture and historic allure of the city of San Francisco.
Some of our campus's more frequented local venues include SoMa StrEat Food Park, Patricia's Green, Heart of the City Farmers Market, Blue Bottle Coffee, Delessio's, Pastry Cupboard, and Proposition Chicken, to name a few.
Typical weather in San Francisco is temperate and mild, ranging from 50-60 degrees Fahrenheit in the winter and anywhere from 60-75 degrees Fahrenheit in the summer. The famous San Francisco fog is often referred to as the city's "natural air conditioner" and has been known to produce dips in temperatures. It is also common for the temperature to change from neighborhood to neighborhood, and even from one block to the next. Generally speaking, the location of the NHI San Francisco campus sees more sun and warmth than some of the other areas of the city.
Students in the massage training program at NHI San Francisco are able to participate in and attend many events held on and off campus, including: Advanced Program Sampler classes; expert panels featuring massage industry professionals; performing massage at marathons and other sports events with the NHI Sports Massage Team; grad & alumni nights; hiring events with employers like Burke Williams and Massage Envy; and many more.
If you're interested in learning more about the NHI San Francisco massage therapy school and what it's like to be a student here, contact an Admissions Advisor to schedule a tour.
Places of Interest in the SF Bay Area
Explore popular North Beach, Chinatown, Golden Gate Park, Pier 39 and Fisherman's Wharf, all within the 7-mile by 7-mile square city of San Francisco
Visit the amusement and water parks, including California's Great America, Raging Waters, and Six Flags Discovery Kingdom
Tour historical sites such as Eugene O'Neill's Tao House, the Winchester Mystery House, Alcatraz, Muir Woods, the Golden Gate Bridge, and the U.S.S. Hornet
Experience the rich and culturally-diverse museums in the Bay Area with options like the deYoung, Exploratorium, MoMa, Yerba Buena Center for the Arts, MoAD, and many more
Catch a foul ball at a San Francisco Giants or Oakland Athletics game; tailgate at a San Francisco 49ers and Oakland Raiders football game; watch a San Jose Sharks game come to blows on the ice; await an exciting three-point basket at a Golden State Warriors game; and prepare for World Cup fever at a San Jose Earthquakes game.
Check out the vast Bay Area music scene ranging from famous rock venues like The Fillmore in San Francisco, Berkeley's Greek Theatre and The Fox Theatre in Oakland, to world-class opera at the War Memorial Opera House and classical compositions performed by the San Francisco Symphony at Davies Symphony Hall.
Go wine tasting and enjoy some fine dining in the world-famous Napa and Sonoma Valleys.
Take a little road trip to the rugged beaches and coastal cities of Santa Cruz, Pescadero, Carmel, Mendocino, Monterey and Big Sur
Free Upcoming Events
San Francisco Massage Therapy School Campus