NHI
Massage Therapy Ambassador
We at NHI are proud of our Massage Therapy Ambassadors (MTA's), an elite group of NHI alumni volunteers. MTA's are committed to the integrity and positive growth of the Massage Therapy profession and to fulfilling their potential as the next generation of industry leaders.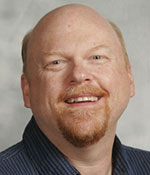 My NHI Story
I chose massage because I was excited about the prospect of helping people get real and positive change in their body, mind and spirit. Now, after several years in the massage profession, I have found great personal and professional satisfaction in helping an amazing variety of clients in need of everything from relaxation and stress relief to therapeutic and sports massage. I continue to practice and refine the skills I gained at NHI and continue to see clients experience a higher quality of life as a result of the work I do.
As a lifelong learner and former educator, I did a lot of research into the profession and discovered there were quite a few institutions offering massage therapy classes. I chose NHI after visiting the campus, watching a class in session and talking with the campus counselor. I was amazed at the quality of the courses offered, the hands-on focus of the instruction, and the high standards for students. Unlike other schools, NHI is dedicated to massage therapy, every student and teacher is focused on reaching the same professional goal. No distractions. No competing programs. As I worked through the program, I made many new friends and we all worked together to learn and have fun. The instructors were professional, caring, understanding, supportive, and worked with each of us to ensure success.
I graduated from the San Jose, CA campus of NHI in 2011 and became a California Certified Massage Therapist shortly thereafter. While in the final months of school, I joined with several NHI classmates and formed the Silicon Valley Massage Therapy Group, a massage therapy center with a team of skilled, certified massage therapists who focus on creating real and positive change in our client's body, mind and spirit. Our practice has grown to more than 10 therapists and more than 500 clients serving the entire Bay Area. We do sporting events, participate in continuing education classes and have grown to be a family.
I made the right choice. No regrets. It feels good to be confident and educated enough help others – and make money doing it. I am proud to be a certified massage therapist!
We would love to continue the conversation
you started with Bard Williams
Call 800.315.3552
to speak with an admissions representative
Special Offer coupon $50off for your books & supplies fee
Download