NHI
Massage Therapy Ambassador
We at NHI are proud of our Massage Therapy Ambassadors (MTA's), an elite group of NHI alumni volunteers. MTA's are committed to the integrity and positive growth of the Massage Therapy profession and to fulfilling their potential as the next generation of industry leaders.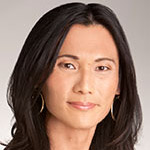 My NHI Story
I completed my massage education at NHI so I could have a formal, professional, certified and licensed background in doing massage. I have received hundreds of massages myself for over 15 years, and I wanted to be able to give massages to others, in the best professional manner possible. With my NHI education, I was able to try internships at several of the leading spas, clinics, and gyms offering high-end massage services.
After graduation I have continued working at some of these spas and clinics as well as started my own mobile massage business, Silicon Valley Body Renewal, which is still growing steadily through outstanding customer reviews. Besides working as a massage therapist, I am also serving as an officer with AMTA to improve the massage industry by preparing continuing education workshops for the thousands of AMTA massage therapists in California. On the side, I compete in marathons as an amateur athlete and have found massage to be a vital part of an athlete's training program, to help with faster workout recovery and injury prevention as well as improved performance.
We would love to continue the conversation
you started with Riya Suising
Call 800.315.3552
to speak with an admissions representative
Special Offer coupon $50off for your books & supplies fee
Download