No events currently scheduled for this campus.
Students & Employers Love Us!
If you're interested in going to NHI or pursuing a career in massage therapy, do it ! Don't only join for the Core Massage Therapy Training Program, take the Advanced Neuromuscular Therapy Program and help define what Massage Therapy truly is. I went from working 60-80 hours a week in restaurants and customer service based jobs that were draining me and not allowing me to have a life. Being a Certified Neuromuscular Massage Therapist or just a CMT (Certified Massage Therapist) in general allows me to work half that amount of hours a week or less and still make a living. I am more in-tuned with my own body and self care. I finally see a bright future for myself and am looking forward to this journey that has only just begun. Attending the National Holistic Institute has helped change my life in all the best ways possible.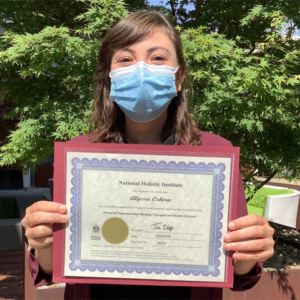 Alyssa Osborn | San Jose Campus