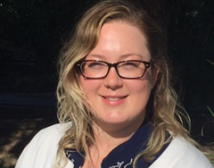 Welcome to the NHI Modesto campus page! NHI has offered a professional and supportive learning environment since 1979. This isn't your normal sit at a desk and study school. We incorporate different teaching techniques for all learning styles. We are committed to provide you with the strong foundation you need for a rewarding career in massage therapy. Come visit our campus and speak to one of our dedicated staff members about your journey to having work you love!
Samantha Manning — Program Manager, NHI Modesto
Student and Campus Life
National Holistic Institute (located on the Institute of Technology campus) is located in Northern Modesto bordering Salida. Surrounded by almond groves, our large campus with 6 buildings house a variety of programs. The campus has a wide variety of events that bring the campus together with a family friendly atmosphere. These events range from volleyball tournaments to cookie mixers.
If you're interested in learning more about the NHI Modesto massage therapy program and what it's like to be a student here, contact an Admissions Advisor to schedule a tour.
Places of Interest in Modesto
Take an adventure river rafting at the Stanislaus River, Tuolumne River, Naraghi Lake, Ceres River Bluff Regional Park.
Explore a variety of local parks, recreational areas and horse trails.
Enjoy local farms with locally grown fruit, veggies, nuts and honey.
Relax at local wineries including: Lucca and Bronco Wine.
Enjoy music festivals or compete in local fun races in the summer.
Explore museums: Hillier Air Museum and McHenry Museum, McHenry Victorian Mansion.
Take a short trip to: Sacramento, San Francisco Bay Area, Yosemite National Park, Stanislaus National Forest, Sierra National Forest, Tahoe, Reno.
Movie Buff? There are many local sites that were used for movie sets- including University of The Pacific and Tuolumne River where parts of Indiana Jones movie franchise was filmed.
Sports fan? Our local baseball team the Modesto Nuts is a Class A- Advanced Team in the California League and a farm team For the Seattle Mariners. They play at John Thurman Field.
Free Upcoming Events
Modesto Massage Therapy School Campus