See why choosing NHI is the best choice to begin your career in massage therapy.
Ready to start a career you'll love?
We're excited that you're considering a career as a massage therapist. It's a great time to enter the ever growing field of massage therapy! Massage therapists are more in demand now than ever before. As a matter of fact, U.S. News and World Report ranked massage therapy as #7 on their list of the Best Healthcare Support Jobs in 2022.
National Holistic Institute offers a comprehensive massage therapist training education. In addition to our classes in anatomy, physiology, pathology, and bodywork, we also provide business classes, externships, a massage therapy clinic on each campus and career placement and support!
Helping People Have Work They Love

At NHI, we truly live and breathe our mission statement of helping people have work they love. We care about our students and they love their NHI Experience.

Flexible School Schedule

We make it easy for you to start a new career you'll love in as little as eight months by offering flexible morning, afternoon, and evening schedules year-round.
Course Schedule »

The NHI Advantage!

Established and respected leader in the massage therapy field since 1979.
Leading education exclusively in massage therapy
Passionate experts in massage therapy who are committed to your success!
High Placement Rate – Over 84% of our 2022 Graduates are currently working in the field of massage therapy.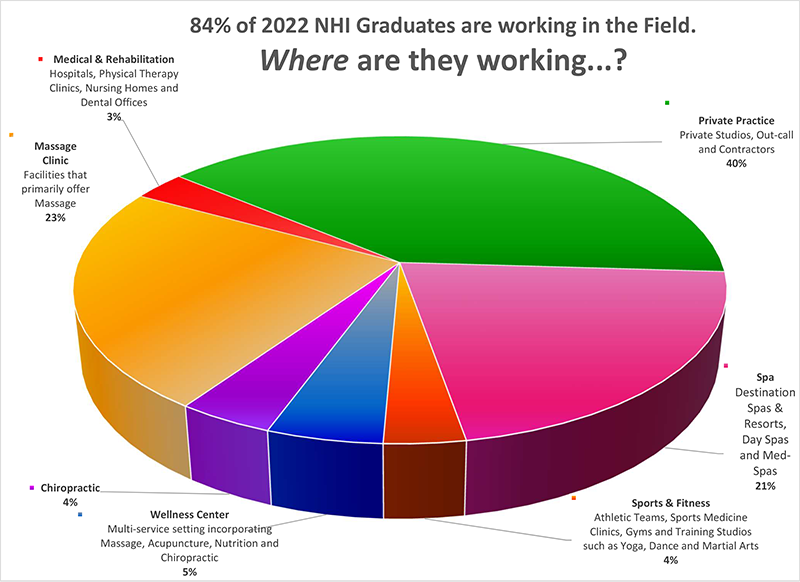 When you visit a campus, our friendly admissions team will answer any questions you have and help walk you through the financial aid and enrollment process. More importantly, we'll learn about you. To contact us by phone call 800.315.3552 or fill out and submit the form below.