Campuses
Clovis | Fresno Massage Therapy School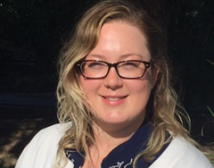 Welcome to the NHI Clovis campus page. We offer a supportive, educational environment located in beautiful Clovis. We are dedicated to providing you an exceptional education experience to prepare you for success in your new career. NHI Clovis offers our students of massage therapy an educational opportunity with all the advantages of a large school, while maintaining the personal teaching approach and support of a small school. I would like to invite you to join us at NHI Clovis to start training to have work you love.
Samantha Manning — Program Manager, NHI Clovis
Student and Campus Life
National Holistic Institute (located inside of the Institute of Technology campus) in Clovis is situated on a quiet, friendly, and picturesque campus with three lovely buildings which include skylights and large open hallways perfect for studying. Conveniently located across Herndon Ave. is the Clovis Commons Shopping Center with Target, Best Buy, dining includes Sequoia Sandwich Company, Mad Duck, and Antonio's Mex-Express along with many more shopping and dining choices, including two Starbucks locations.
The Institute of Technology campus is minutes from Old Town Clovis which maintains a small town atmosphere with dining, shops and many community events including wine walks, antique fairs, and farmers markets. In less than ten blocks away from campus, the bustling Fashion Fair Mall in Fresno sits with plenty of retail, entertainment, and food options. The central location of Clovis-Fresno area in the San Joaquin Valley makes it an ideal location for travel to other California destinations, including, being less than an hour and a half drive from the majestic Yosemite National Park.
Clovis offers mild winters and warm summers.
Points of Interest in Clovis
Old Town Clovis Farmers Market.
Beat the heat at Clovis's Wild Water Adventure Park featuring 52 acres of trees, lakes, and picnic areas and over 20 rides and attractions.
Spend time with nature at the Fresno Chaffee Zoo, which features attractions like Sea Lion Cove and Stingray Bay.
Drive or cycle through the gorgeous and colorful Blossom Trail and experience the Central Valley's agricultural beauty.
Summer or winter book a trip to China Peak for skiing, snowboarding, mountain biking, or take a scenic chair ride.
Less than an hour away is one of the Valley's grape growing regions, featuring the Madera Wine Trail.
Clovis is also just hours away from many attractions including the charming Central California Coast, Shaver Lake, and Six Flags Magic Mountain.
Experience culture and be a part of the Downtown Fresno's revitalization with Art Hops, sporting events at Chukchansi Park, and Broadway in Fresno at the historic William Saroyan Theatre.