Campuses
Redding Massage Therapy School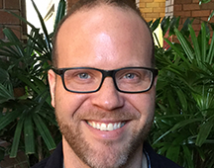 Welcome to National Holistic Institute's Redding Campus page. Our Redding massage therapy school is now in partnership with the Institute of Technology on Hilltop Drive. NHI's campus is located in the heart of Redding with majestic views of Mt Shasta and Mt Lassen. Our combined campus is offering our nationally recognized Massage Therapy program. We utilize a personal teaching approach for students and offer the skills you need for success and a rewarding career in Massage Therapy. Please stop by for a personal tour. We look forward to meeting you!
Fred Anguera — Program Manager, NHI Redding
Student and Campus Life
National Holistic Institute (located inside of the Institute of Technology campus) in Redding, is located in far Northern California. Our campus is surrounded by mountain ranges, including Mt. Shasta and Mt. Lassen, National Parks, Sacramento River, Shasta Lake and Whiskeytown Lake. We are within walking distance of many river trails, locally owned shops and the Mt. Shasta Mall. Across the street we have a variety of restaurants including Taj Mahal (Indian), Tokyo Gardens (Japanese), Mazatlán (Mexican) and Redding's favorite lunch time spot, Wilda's Grill.
Redding is known for outdoor activities such as hiking, boating, skiing, kayaking, fishing, camping, and mountain bike riding. Redding is the home of the historic Cascade Theater, which is a venue for many concerts and performances. It has a population of 90,000 people including the surrounding areas. Interstate 5 runs through the center of the city, making travel convenient.
Average temperatures for Redding range from the 40's to 110 degrees in the summer. Summers are sunny and hot, perfect for boating and water sports on the lakes.
Student and Campus Life
Cool off at Shasta Lake or Whiskeytown and enjoy fishing, water sports, and swimming
Explore local caves at Shasta Caverns (includes a boat and bus ride that you will never forget).
Explore local wild life with a visit to the Turtle Bay Museum
Take a walk across the Sun Dial Bridge and enjoy 19 miles of trails to explore
See a concert at the Historic Cascade Theater or the River Front Playhouse
Sacramento River Trail is great for walking, biking or rollerblading
Play many different sports at the Field of Dreams Soccer Park
Enjoy some fresh locally grown vegetables and live music at Market fest during the summer
Take a beautiful drive to Mt. Shasta Ski Park and do some skiing or mountain biking in the summer months.