San Jose
Contact & Directions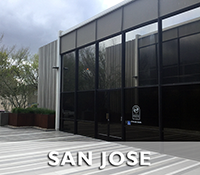 A free parking lot is available behind the building, accessed from Dudley Avenue. There is also non-metered parking on Dudley Avenue.
The nearest VTA bus lines are #25/Great America (stop at Winchester & Moorpark) and #60/Winchester & Knowles (stop at Winchester & Moorpark).
Although none of the light rail stations are within walking distance of the campus, you can catch a couple of the bus lines mentioned above from specific light rail stations. At the Winchester station on the Mountain View-Winchester line you can catch the #60 bus. At the Tamien station on the Alum Rock-Santa Teresa you can catch the #25 bus. Tamien station is also a CalTrain stop, so if you commute to San Jose by CalTrain, you can catch the #25 bus at that stop.
NHI's San Jose massage therapy school campus serves the entire South Bay Area including Santa Clara, Fremont, Sunnyvale, Palo Alto and Mountain View.